Last week I fessed up and revealed my semi-crazy living situation with you guys. It's temporary [
I think/hope/OMGGETMEOUTOFHERE
] but has been going on so long I have mild Stockholm Syndrome with the naval base. I even called this place
home
the other day and subsequently had to shake a bit of sense back into myself. There's not much sense left to shake at this point =)
Anywho! Around week four our mini fridge decided to stop working. We Paul [I was too busy eating watermelon] called maintenance and scheduled a little mini-fridge rescue mission. It turns out I was over-stuffing the refrigerator to the point of no return. It couldn't keep up with the stockpile I had acquired and promptly refused to function. Here's a snazzy crappy Instagram photo to give you a visual:
When my rescuer showed up he took one look at the fridge [and the baby bump] and excused himself. He then returned with a SECOND refrigerator! Oh yes. I now have two! Cue the happy dance. It's a fabulous distraction from the fact that the AC is set to 75 degrees at the absolute coldest when my body heat requires a good 65-68 degrees to operate sans melting. What? Incubating is hard work! I'm a walking sauna! Even restaurants and hospitals are no longer chilly to me. In fact, they're quite sweltering. Is it fall yet?! =)
Since I suppose you're here for
WIAW
and not to listen to me ramble, here's a peek at some of my hotel and restaurant eats:
What I eat when I don't mind smelling like a garlic factory for the rest of the day:
Vegetarian Grilled Veggie Gyro
[with the garlickyest tzatziki sauce the world has ever known]
What I eat when I spot a Tijuana Flats and HAVE. TO. HAVE. IT.
I actually have a [
copycat recipe
] that I make at home on a fairly regular basis!
So good!
What I eat when I'm bored of salads but craving crisp, raw veggies:
Veggie Wraps from The Fresh Market!
We didn't think to bring a knife into the hotel [hormonal preggo + sharp objects are not usually a preferred pairing] but had we done so, I probably could have whipped these up on my own. No worries though - TFM always has my back with their healthy grab-and-go options! I realize this may sound like an ad for them but I'm just really a raging groupie of theirs. My nearest one back home is over 45 minutes away and I don't visit nearly as often as I'd like to so having one 15 minutes away is just plain dangerous! [and delicious]
What I make to pair with takeout or leftovers:
Toss sliced cucumber and fresh grape tomatoes in a combination of olive oil, vinegar, and dried dill and serve over a bed of leafy greens.
What I eat when I want something sweet:
Whole Fruit Strawberry Bars +
Ciao Bella Blood Orange Sorbet Bars
These help me beat the heat and starve off a sweet tooth!
Enough of my shenanigans! Let's see what you've been up to lately!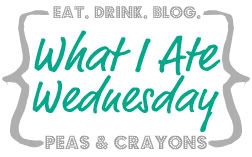 New to the party? [click here] for more info on our Wednesday shenanigans!