A weekend getaway with my friend Kristi and her family resulted in several days of amazing, I repeat, AMAZING Wilminton/Wrightsville Beach cuisine. I lost count of just how often I blurted out
"oh... my... god... YUM!"
and not-so-secretly want their family to adopt me. Good food and good company are pretty much all I need in life. Oh... and my husband =) Not that he can read this while he's deployed. A message pops up saying that "BLOCKED: entertainment blogs and/or websites" -- which I'm choosing to take as a compliment since it means that at least
someone
thinks I'm entertaining.
But you guys agree... right? [just smile and nod, okay?]
[Wedge Salad with Creamy Feta Dressing, Fresh Onion, and Roasted Roma Tomaotes]
[Sugar Cane Skewered Spiced Shrimp with Tropical Salsa]
[Shrimp and Crab Seafood Nachos - split with Kristi]
[water and white wine]
To sneak some exercise in, we walked to the restaurant from the beach house. On the way the tourist in me had to stop and snap a picture of a little bit of Wrightsville Beach randomness:
On the way back from the restaurant our walk resulted in a little detour...
My first-ever cup of Ritas!
I got the Margarita Gelati. Tart and fruity with a hint of sweet creamy vanilla? Sold!
There was a little of this:
and a LOT of this:
and of course even more food!
I had the Local Shrimp and Crab Crepe, a a bite of pretty much everyone's dish [they all rocked!] and an ice cream puff [I forgot what they were called but you guys reminded me that they're profiteroles - Thanks loves!] with chocolate sauce. *swoon*
Yikes! This post is getting pretty lengthy -- If I continue to cram the entire trip [nearly 5 days!] into a single post you might self-destruct trying to read it all. That would be kind of sad considering I don't actually want you to implode... So let's save the rest for next week and get on to your What I Ate Wednesday posts!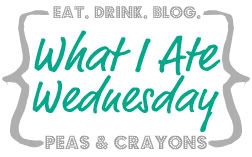 Want to join in on the fun?
And while I have
you captive
your attention... Corey [
the beauty behind Learning Patience!
] and I decided that there are WAY too many men and women overseas that don't have family or friends to write to. Our blog community is pretty huge -- so why don't we send them some love!? Send and email to OperationLetters@gmail.com and I'll print and mail it overseas for ya in a jumbo care package that Corey and I are putting together! I'll try to whip up a post with more info as we get our butts organized but I wanted to get the ball rolling today so we can see how many of you are interested in writing to the troops. No donations needed, something as simple as a letter can absolutely brighten someone's day! My friend's class has already sent over a box of notes and drawings - We'd love to have you join in! <3