Yesterday I gave you a little peek at one our
mandatory
Raleigh road trips.
along with Paul and his beloved
furry wall
=)
Without these mini vaycays, I'm certain I might lose my mind!
Plus they're not only good for my mental health, they're fantastic for my body!
My Raleigh road trip eats are as COLORFUL and FRUIT+VEGGIEFUL as it gets! <3
Ok now I'm just making up words.
On to the YUM!
black coffee + water + banana
water-to-go + key lime pie larabar
1/2 Greek Salad + 1/2 Tuna Salad on Rye w/ lettuce + tomato
water
whole foods hot bar dinner!
3lbs of vegan and vegetarian goodies including:
quinoa + mashed sweet potatoes + balsamic mushrooms, tofu stroganoff + hugh jass salad
GT's trilogy kombucha [chugged too fast to photograph!]
gloooorious hot bar leftovers =)
Mandatory: add the WIAW button + link somewhere in the post you are sharing so your friends + readers can see what you're up to and join in on the fun too! Or simply so they can stalk everyone's posts like we do =) Email me at PEASandCRAYONS [at] gmail.com or Tweet if ya need help! MWAH!
I flipping LOVE when you guys include a recipe or meal/snack tips WITH your What I Ate Wednesday post, but please please please make sure they are part of a what-I-ate post and not simply a recipe. This way we can
keep WIAW food diary focused... since that's what it's all about! Plus it ups the inspiration factor =) True story!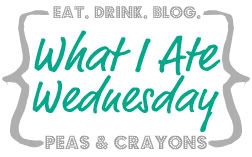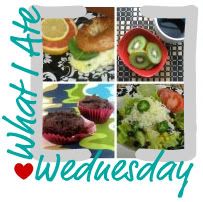 PS: Right now I'm racing the clock to move into this bad boy before the storm hits.
I'll be reading your WIAW posts on my phone + laptop during the many many breaks I forsee myself taking during the move, so keep the inspiration coming! Don't forget to support each other by checking out a few WIAW links + making some new blog friends! <3 Enjoy the party! MWAH!